Colorful LEDs can be applied in specialty lighting sectors, such as stage lighting, plant grow lights and landscape lighting markets. Regional markets in China, U.S., Europe and Southeast Asia have especially benefited from emerging applications in the local market and witnessed increased procurements for color LEDs. Demands for different color RGBW LED components have emerged as a result from this trend, and is accelerating in related specialty lighting market applications. The popular LED grow light market has grown to US $575 million in 2016, and LEDinside estimates it will reach US $1.42 billion by 2020. LEDinside has also observed LEDs for stage light market value reached US $500 million, and is projected to further escalate.
Leading Taiwanese LED package manufacturer Everlight has a track record of delivering good quality and high performing LED backlight components and standard LED lighting components. In recent years, Everlight has ventured into the automotive LED lighting market as well as the color LED lighting market. LEDinside recently interviewed Everlight's Technical Marketing Manager Ewing Liu, who spoke about the color LED market, and Everlight's developments in full color LEDs and line up of extensive power options to meet market developments in the sector.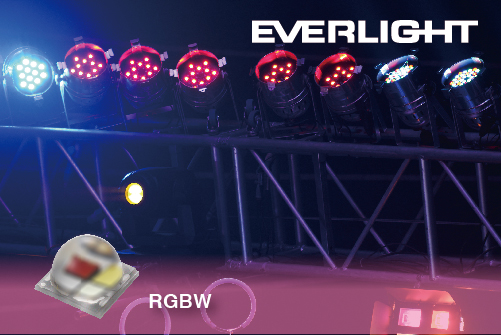 Everlight's four-in-one RGBW LED package for stage lights and other niche lighting applications. (Everlight/LEDinside)
According to Everlight the company started promoting color LEDs in the last four to five years, and partnered with top global players in the industry to develop high quality color LEDs that are applied in architectural lighting, stage lighting, interior decoration, horticulture lighting, and other LED-color mixing lighting applications.
In the market, single color R, G, B, Y LEDs are currently the market mainstream in multi-color LED applications. However, there is also demand for multi color in one type of LED packages as well.
Everlight is packaging four color LED dies into a single package to meet different clients design demands, and to provide more suitable products on the market. For instance, stage lights have different color demands and are most suited for these types of multi-color LEDs. The latest product from Everlight is a RGBW in one high power LED. This product will be released by Q4 2016.
Moreover, several lighting applications are in high demand in China, such as landscape lighting, outdoor signal lights, billboards and displays. Everlight has very good market channels and distribution partners, and acquired an advantageous market position in the full color LED market with its extensive LED power options. The company has also acquired many tenders in recent years, and supplied color LEDs to European, American and Asian manufacturers to complete the color LED supply chain.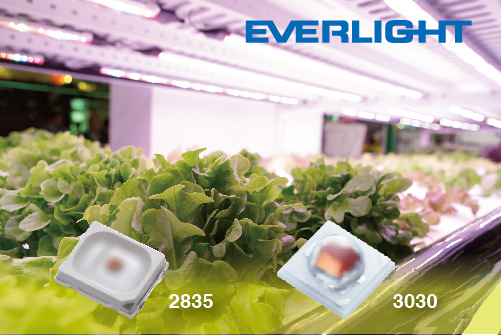 Everlight's 2835 and 3030 color LEDs for plant growth applications. (Everlight/LEDinside)
LED grow lights make up largest market share in Europe and U.S.
Grow light manufacturers control a plants growth and artificial lighting environment. Demands for grow light have accelerated in recent years. Large plant production facilities are growing and vertical farms have been trending in the last few years due to impact from climate change, or specific plant demands. Artificial grow lights that can spur plant growth have gradually become a new trend.
LEDinside upholds a positive outlook for the global LED grow light market. LEDinside estimates by 2016, global LED grow light market will reach US $575 million, and escalate to US $1.42 billion by 2020. Impact from climate change has caused rising demands for grow lights in cultivation of delicate crops, aquaculture, food preservation, and other market demands. All these are driving developments in the LED grow light market.
Everlight has invested many resources to develop LED grow lights in large product facilities and vertical farming applications, and currently offers 0.2W to 0.5W 2835 LEDs, and 3535 high power ceramic LED products. The company is offering LED grow lights options with wavelengths of 450 nm, 525 nm, 660 nm, 730 nm and many others. The LED wavelengths have been certified by scientists and grow light clients. The company will be targeting Europe, U.S., and China markets with these new LED grow lights.
LEDinside has observed that Everlight's multi-functional colored LEDs have attracted a lot of customers at lighting shows in Europe. If the company is able utilize its design and customization advantages, it would be able to provide European clients an even stronger LED grow light product lineup.
Everlight develops its advantages in full color LED technology
Everlight has been working closely with first-tier manufacturers in LED chip technology, and has made low-power colored LEDs with very precise bin performance. In different regional markets, the company is making products that meet global client demands, and its advantages in mass production has also provided the industry with steady supply of LEDs, and expanded its market opportunities in the color LED market.
Everlight's R&D team is developing new products, and offering customized services in backlights, flash lights, lighting, and display applications. Everlight can even make specific sized LEDs and light shapes.
Most of Everlight's advanced technology R&D will mainly be based in Taiwan. Market requests for full color and comprehensive power option LED products, Everlight responded with its advanced R&D capacity and implemented stringent product quality control to create LEDs with accurate color performance to meet clients color mixing demands. The company is further solidifying its market position as a comprehensive LED product supplier with its color LED products.