LG Innotek announced it has supplied its sterilizing UV-C LED modules to LG Electroics' home appliance. The company expects that this achievement will become the primer to expand its market for UV-C LEDs.
According to LG Innotek, the company has provided its 4mW UV-C LED modules to LG Signature air purifiers from LG Electronics since last July. The LED module is equipped with two 6060 UV-C LED packages manufactured by the company.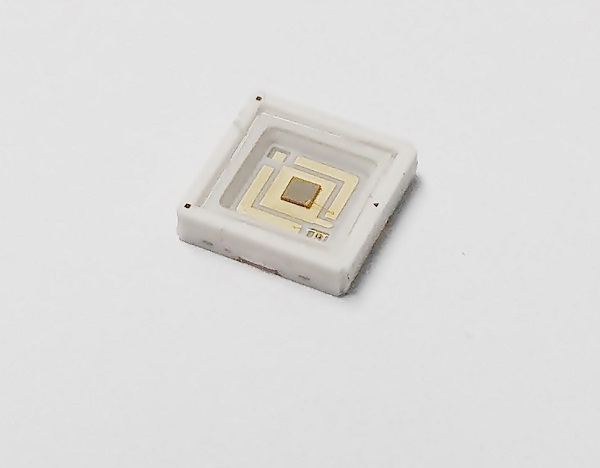 LG Innotek's UV-C LED package (6060 series). (LG Innotek/LEDinside)
The UV-C LED package emits ultraviolet ray (UV) with the wavelength in the range of 200~280nm (nanometer), which is the shortest ultraviolet wavelength band. LG Innotek's product emits UV in the range of 265~280nm.
The UV-C LED package consumes less power and is eco-friendly compared to the existing mercury lamps, and has received attention of the people as the next generation light source that will replace the existing sanitary lightings in the fields of sterilization and purification.
LG Innotek's UV-C LED package has greatly improved its reliability and yield compared to the previous products. The lifespan of the product has increased by approx. 40% through the company's proprietary technology for LED structural design. The product can endure up to 20,000 hours of continued use and still function properly.
Its sterilization performance is also the world's best. According to the sterilization performance test carried out by Korea Conformity Laboratories (KCL), the product could remove 99.9% of the bacteria, including E. coli, within 25 minutes from the water contained in a water tank of 5 liter size.
By leveraging their achievement of supplying the sterilizing UV-C LEDs to the home appliance, LG Innotek will expand the application areas to vacuum cleaner, washing machine, air-conditioner, and refrigerator, etc., solidifying the company's position in the market.
Also, the company plans to finish the development of a 70mW product by the end of this year. The company expects that the application of UV-C LED will expand to air sterilization as well as large-scale water treatment such as automobile air conditioning sterilization of ballast water.
Based on the world's best UV LED technology, the company will accelerate the development of UV-B LED packages, which are used for bio-medical purposes such as skin treatment, osteoporosis, and prevention of dental caries.
LG Innotek said "UV LED technology can be seen a basis for the company's LED technology." And "LG Innotek continually offers the best UV LED chip, package, and module solutions for our customers."