Lumileds introduced the LUXEON CZ Color Line, a product line optimized to deliver maximum punch. "The LUXEON CZ features up to 48% higher punch than any other undomed color LED," said Jennifer Holland, Product Line Director of the LUXEON Color Family. The company has witnessed in the market the trend to color tuning fixtures with narrow beam angles and maximum punch. The LUXEON CZ Color Line consists of 21 LED color options, which includes 13 color and 8 white emitters.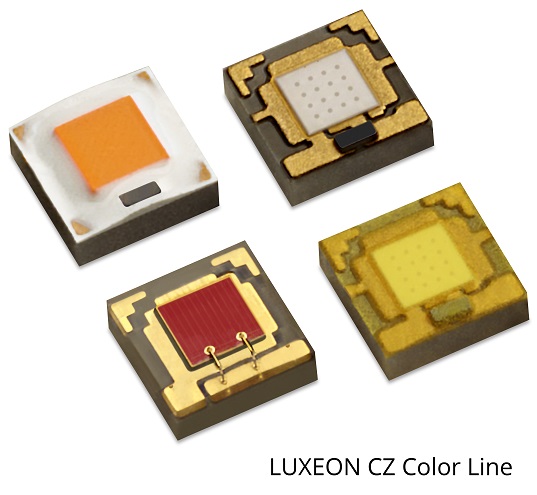 (Image: Lumileds)
In addition to industry leading punch, the LUXEON CZ Color Line makes fixture designs with narrow beam angles possible. "It is easier for optics to pick up all the light because the emitters cast minimal light below the horizon, unlike comparative products on the market," said Holland.
In a narrow beam system, the intensity of the light is nearly 30-50% higher when compared with other undomed emitters. The intensity of each color is similar ensuring a consistent beam width and minimizing halos when color mixing.
The product line additionally eliminates crosstalk, ensuring a true color point when LEDs are packed closely together. Crosstalk can happen when direct color LEDs are closely spaced with phosphor converted LEDs. The photons from the direct colors can excite the phosphor in the surrounding phosphor converted LEDs, making it appear as if the phosphor converted LEDs are on, when in reality only the direct color LED is illuminated. The LUXEON CZ Color Line ensures a true color point in compact designs and is especially suited to architectural lighting, entertainment lighting, dimmable lamps and fixtures and emergency vehicle lighting applications.
In addition, LUXEON CZ consists of the same robust buildings blocks as the award-winning LUXEON C Color Line. All LUXEON CZ and LUXEON C LEDs feature an identical focal length, an approach that leads to superior color mixing in all applications. To accelerate time to market and simplify designs, LUXEON CZ and LUXEON C are designed in the same footprint and are also hot tested at 85°C to ensure excellent performance at real world conditions.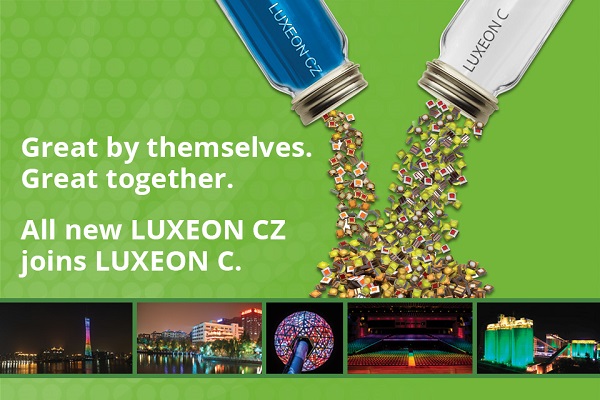 (Image: Lumileds)
The industry's lowest thermal resistance (3.2°C/W) helps reduce the size of heat sinks for the most compact lamps or fixtures. A low thermal resistance is especially beneficial in densely packed applications because it significantly helps with thermal management. Leveraging the features and reliability of the well-known LUXEON C, Lumileds has extended these benefits to LUXEON CZ, giving lighting manufacturers the confidence and flexibility to use them individually or even together.